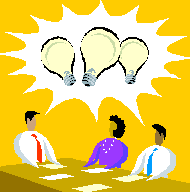 Regardless of what strategies and solutions a business' chief information officers and related IT personnel would like to implement or accomplish, it is important that they have the blessings of those involved in the gritty financial details of the company.
However, the natural differences of perspective that arise between the two departments make coming to an agreement more challenging.
While an IT department may better understand the specifics of why a company should invest in various process and content solutions, it may be difficult to communicate such reasons to the financial team in a convincing way.
Likewise, CFOs – due to their focus on fiscal reality – may not be able to convince CIOs of what is or isn't reasonable.
Obvious Disconnect
A survey released by Gartner and Financial Executives International exemplifies this disconnect and points out the need for departments to develop strong communications and networking procedures.
According to Network World, the study finds only 1/4 of CFOs were confident that their CIOs and IT departments have "the organizational and technical flexibility to respond to changing business priorities" or are "able to deliver against the enterprise/business unit strategy."
In addition, only 25% of CFOs view their companies' CIOs as a key player in developing and implementing business strategy.
More strikingly, a mere 18%of respondents claimed they believe their "IT service levels meet or exceed business expectations."
CIO vs CFO
Aside from highlighting a disconnect between the two departments, Gartner analyst John Van Deckersuggests the survey points out how "CIOs sometimes care too much about technologies" as opposed to overall business environment and strategy.
"In terms of who authorizes IT investments, 29 percent of the respondents said it's a steering committee of IT and business executives," reports Network World contributor Ellen Messmer. "But 26 percent said it's the CFO alone authorizing IT investment, up from 18 percent last year. A quarter says it's the CIO and CFO together. In 11 percent of organizations, it's still the CIO alone."
"The study's findings point to the need for the CIO and others in the IT department to reach out to the CFO and be as clear as possible about why some kinds of IT investments are being advocated by the IT department," Messmer adds.