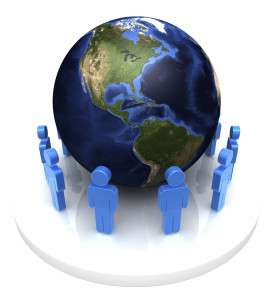 Guest article by iNSIDER Pam Baker.
Social media hit the scene hard and changed the business equilibrium to heavily favor consumers. Balance is not likely to be restored anytime soon as consumers continue to hold tightly to their voice in the marketplace. What is likely to change is the way businesses will cope with this invaluable flow of data.
2013 will see more businesses turning to ECM to manage external and internal social media content rather than continuing to attempt to manage the content in siloed social media enterprise platforms.
Indeed, look for independent social enterprise media vendors to become extinct, if not in 2013 then certainly shortly thereafter.
While it is true that social media will become increasingly wrapped in several types of business applications and platforms instead of standing alone, ECM will most likely take a front and center role in managing this content. It just makes good business sense to manage all content in one place and make it available to all within the enterprise who need it.
Certainly social media is no longer pegged as "just" marketing communications anymore than the telephone or email is, so why would you keep the content restricted to marketing?
There is also the problem of users continuing a single conversation over multiple channels to contend with. Related messages can be found crossing over collaboration software, instant messaging, social media, text messaging, video chat, email, and channels yet to be discovered.
Therefore, social media generated content must be managed, as must all other enterprise content, in one seamless fashion and that fits precisely with ECM's capabilities.
The Radicati Group predicts that the ECM market will grow from $4.4 billion in 2012 to over $7.5 billion in 2016, no doubt partly because of the flood of social media data and the continued fragmentation of cross-channel communications as well as the dramatic rise in internal unstructured data and the increasing amount of mobile data.
Mobile enterprise use is already shifting from content consumption to content creation. Mobile file sharing and synchronization will become a top concern in 2013 and that requires superior content management on the back-end of things. Such will most likely require a hybrid ECM approach – a part cloud and part on-premise solution.
For most companies, reaching the hybrid ideal will not be a hardship. Radicati Groups' research found:
"A growing trend among businesses today is the deployment and integration of ECM solutions from multiple vendors. The best-of-breed approach has become more prevalent among businesses as they look to best satisfy their specific ECM needs, regardless of how many vendors it requires. A catalyst driving these inter-vendor deployments has been an increased level of cooperation and integration among vendors in the ECM market."
Cooperation and integration among ECM vendors is expected to continue as are their respective forays into the cloud, hybrid or otherwise. This is good news for buyers.
Yes, 2013 will be a year of sync or sink, of data booms and busts, and of anchored mobile data and freed content-at-large. In short, it's ECM's year to come of age.
More by Pam Baker: