This article is written by Guest Author Jessica Wiener, a specialist in custom letterhead. When she is not writing for Print360.com, you can find her cooking up a storm in her kitchen.
The popularity of enterprise content management systems have increased significantly in the past few years as businesses have embraced advances and improvements in technology that have allowed them to go paperless more effectively.
There has been a lot of popularity surrounding the "paperless office", and although most industry experts agree that the idea of any company – especially a large one – using absolutely no paper is not yet entirely attainable, they also agree that ECM is an excellent option for moving toward that goal.
Some use of paper, including company custom letterhead and business cards, is part of doing business; but there are ways of reducing overall paper use that can yield major savings, both in terms of supply and waste management costs, and in reducing a company's environmental footprint.
The Price of Paper

For businesses of any size, a well-implemented ECM system can substantially reduce the costs of running an office by lowering the costs associated with paper use.
Just a glance around an office space reveals how much paper an average business uses, and while initially the impact of that use may not seem significant, in fact the environmental costs of paper-driven businesses is staggering.
Over 40% of wood pulp processed today goes toward the production of paper, and AIIM reports that if offices in the United States reduced their use of paper by about 10 percent, or 540,000 tons, it would result in a 1.6 million ton reduction in greenhouse gas emissions.
Cutting Costs
ECM savings are not limited to large corporations. The use of paper is so pervasive that even small businesses can reap big savings with an ECM system.
In fact, in a report on going green at work, Time magazine reports that a single office worker can use 10,000 sheets of copier paper in a year. And in a report by the American Bar Association, it was estimated that just one lawyer can use as many as 100,000 sheets of paper in just a single year, according to the results of a study conducted by Purdue University.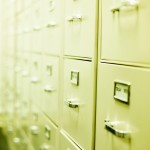 In addition to savings directly attributable to buying paper, ECM also reduces the need for storing all of those documents.
Filing cabinets, off-site storage- it all takes up a surprising amount of resources, including the need for additional space and lighting, heating and cooling for that space: according to the article by AIIM noted above, one California school district found that by replacing 200 filing cabinets with ECM, it was able to save about $400,000 in storage-associated costs. Bay Cities Bank eliminated an entire room of paper after switching to their ECM system.

The resources available for effective ECM are more plentiful than ever. Companies that are interested in reducing their paper-associated costs as well as their environmental impact will find the time has never been more ideal for implementing ECM in their own business.